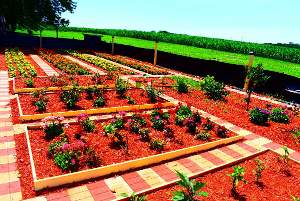 The annual Seeds of Love, community garden event to grow offerings for worship is powered by high energy volunteers and we are always recruiting! If you are looking to learn about gardenig or cooking, connect with your community and put your distinct skills to good use, we are looking for you!
Each year in Spring, garden is planted with fresh annuals and the perennials are tendered to. Rows of Marigold are planted that bloom till fall and provide beautiful flowers that are used in garland and daily floral offerings during services in the temple.
Seasonal vegetables are also grown throughout the growing season. Vegetables from the garden are cooked and are offered during naivedya offerings and distributed as prasad in the temple.
The kinds of things our volunteers do include:
Building new floral or vegetable garden.
Tending Grow to Offer floral plots or pots. (donate or volunteer)
Help to tend to the garden.(custom schedules available)
Staffing events. (Setting up, cleaning up)
Teaching gardening and cooking skills.

We need volunteers in everything we do.
first-time, one-time or ongoing volunteers Welcome!
Ready to get your hands dirty?
Call or text to signup for Garden volunteer orientation Now!